Anniverstory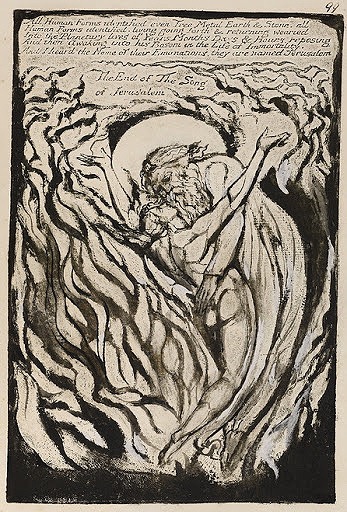 The End of the Song of Jerusalem, William Blake, 1827

" … what actually came to pass one day but never, ever went away."


The crabapple trees were in full and glorious bloom. The iris bed across the front had just begun showing color. The house, still white with garish blue window trim in those days before I'd stripped it to bare wood to repaint it caperberry green. The rose garden and the spreading, ancient apricot were still in their more primitive forms, time's ravages yet before them. Family and friends gathered to witness The Muse and I marrying. We'd planned a fitting celebration with fairy lights strung in trees and all along the arbor over the back deck. James flew over from Seattle to serve as our chef. We bought Copper River Sockeye filets and huge bags of fresh-cut asparagus and enough strawberries to more than feed the multitude. The Muse's Aunt Lillian tottered around the yard, leaning over her walker to pull errant weeds. Everyone who attended accepted an assignment to do something, for this would be a Do It All By Ourselves affair.

The preacher drove over from Beaverton with his partner, both heavily tattooed and pierced. The Muse's siblings and cousins came vast distances to join the celebration. My son Wilder spent the afternoon surreptitiously painting a portrait of the house from across the street, presenting the wet canvas at the ceremony later that evening, a portal back to the most special place, forever frozen in that extraordinary time. We bought cases of Woodward Canyon's finest red and decent Pinot Gris, and The Muse's sisters concocted an emergency batch of Pad Thai when we realized that we'd forgotten to provide for the vegetarians. We conscripted the neighbor boys to wear white shirts and black pants and serve as waiters, though most chose to work the line, if only to better inhale the smoke coming up off the grill.

We wrote our own vows, such as they were, with no mention of honor or obeying. I sang a song I'd written as my proposal, I Will Not Be Writing Any Love Songs Today, and The Muse, in her finest lector voice, stole the show, as usual. Since that blessed day, several have passed away, some, conventionally, others via divorce and other dismemberments, but that moment remains somehow static and sacred. That old, then almost falling down house has since swallowed its share of tears, laying down its original paint, roof, kitchen, a bathroom, and a few windows. The old apricot tree might not live to see many more spring evenings, blight overtaking more limbs each year. The Muse and I moved out of there but left our hearts behind, praying that we might find ourselves returning to reclaim them before we become too much similar to that twisted apricot. We've still got everything promised that wedding day, whichever way our story turns out.

My nephew fell in the pond, he four or five years old and running wild around the yard with The GrandOtter. Our hearts were so full of hope, nothing could cloud our horizons. The day returns each year, usually finding us far, far away from there, but somehow still smelling the crabapple blossoms. That fall, one of the crabs would topple to a storm and we'd have to replace half the front retaining wall to repair the sewer pipe, and the railing surrounding the upper deck would crumble to the forces of time and an over-enthusiastic wisteria. I have crawled every square inch of that place, tugging foot-long button weed roots up through the porous loess soil. I toiled exclusively in love.

The Muse and I have been especially blessed, even when time displaced us from that magical place. We stand today, still far too far away, pondering a picnic in some unknown and isolated someplace else. I imagine ghosts convening to recreate that place, who we once were more than warmly remembering, but accurately recreating that remarkable space; just as if we'd never dispersed back into ordinary time, but some essence of us eternally stayed behind, protected from ravages and other innocent crimes. We gather to tell the story, the Anniverstory, of what actually came to pass one day but never, ever went away.

©2020 by David A. Schmaltz - all rights reserved