OrdinaryTimes 1.22-Company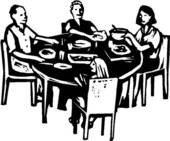 The Muse seems to be a skillful politician. Her primary weapon might be the strategically positioned supper party. Whenever a group comes to town for a review or a meeting, she invites 'em over for supper. The program she works for rarely sponsors any outside of work activities, so an essential channel of communication just doesn't exist unless somebody, like The Muse, makes it happen. She does.

I don't do much other than clean up the house and prepare the food, perhaps pull out the guitar after supper for a short house concert. Most of the conversation at table flies far over my head. It's filled with nuanced meanings, so much so that The Muse has to later, once the guests depart, explain to me what really happened. It seemed like so much small talk but it was not.
She's a joy to watch weaving stories. Sometimes she's working to disconfirm some misconception about her; she's not above or below inviting someone who's been sabotaging her efforts. Plied with fine food and perhaps a touch too much wine, adversaries struggle to remember why their opposition seemed so reasonable. Hard to hate anyone who nourishes you.
We both enjoy playing host, though we're not pretending. I don't get many audiences these days and few people ever get poetry read to them or an original song sung to them. It's a fair trade. The Muse doesn't get many opportunities to casually interact with co-workers, and she needs the socialization. She's around some of these people all day, but it seems neither she nor them are quite the same at supper as they are at work.
The backstories come out after dessert, punctuated, perhaps, with a second small glass of that excellent cognac. Front stories almost never make sense without understanding the backstory. Tonight we realized that we had three middle kids of five here. There's an unshakable shared context. We talked genealogy, discovering common history lurking in our ancestors' experience.
This suppering's subtle and significant stuff. Wine glasses clink and serving plates empty as if by magic. I suppose it is a form of magic that so much common ground gets found around a supper table.
©2013 by David A. Schmaltz - all rights reserved