IfOnly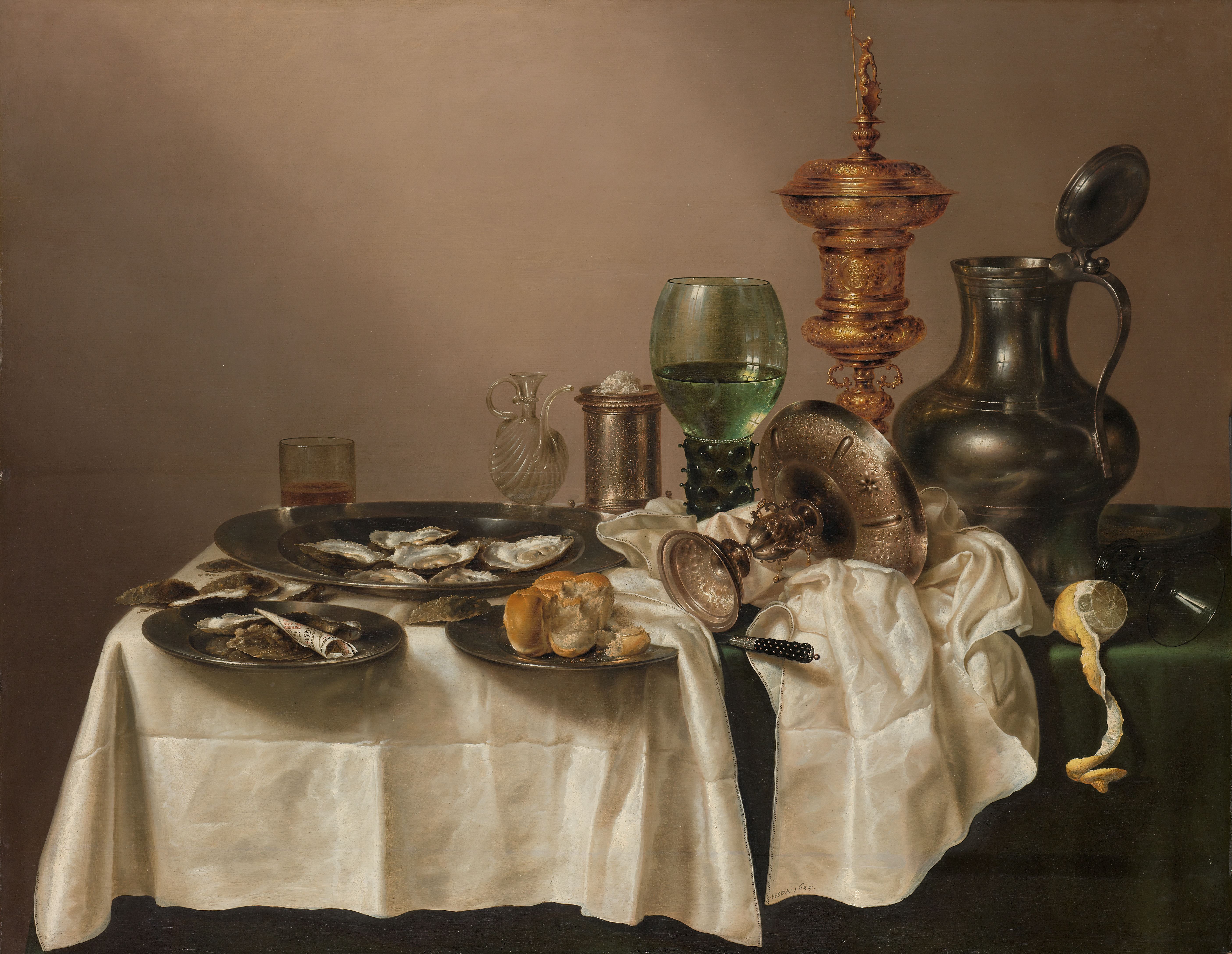 Willem Claesz Heda: Still Life with a Gilt Cup (1635)

" … slinked home without salvation …"


The Muse suggested a drive up to the top of The Scenic Loop to show her visiting nephew John a different part of this valley. We soon found ourselves standing beside a dusty road, threshing wheat in our palms, working on creating gluten balls for chewing. It's long been our practice in harvest season to glean a stalk or two from the periphery of a wheat field and wonder at the magic within them. The Muse counts forty-five kernels from one head, recalling how her father could count one head's kernels and fairly accurately project the bushels per acres he'd harvest from his field. The Muse reports word of bumper crops this year, with eighty bushels per acre on dry land and twice that from irrigated fields. Her dad counted forty bushels a bumper crop in his place and time.

We drive on, working that wheat paste as if it were chewing gum, up further into the mountains, since John lives in South Dakota and has rarely seen mountains. We've left lunch behind to take a short toodle, but the surroundings entice. I continue driving over the state boundary and up into National Forest, driving a dusty gravel road around endless switchbacks until we come up at the top of the first tier of mountains. The further I drive, the more I feel enticed to continue driving until, after some indeterminant point, I can no longer bear to turn around. We stop to survey the scenery, valley suspended far below us, enveloped in dusty haze, mountains dominating the foreground with deep ravines first logged a hundred and fifty years before. Profusions of wildflowers surprise and delight us. We discover huckleberries!

IfOnly we'd planned ahead, we might have packed a lunch featuring ham and cheese sandwiches and some cold beverages. As it was, we had by then already lost the lunch hour and were receding into an uncertain afternoon, preceding ahead, unprepared. There's still no good replacement for any sincere lack of preparation. I continue forward, the road increasingly unpromising. More than an inch of very fine talcum powder dust the color of rust covers the road, filling ruts and hiding large rocks. We continue. I can drive no more than seven or eight miles an hour and our maps show little detail, we continue into the adventure. I'm certain that I know where this road leads, that there's actually a there on the other end and not just a dead end as one of our maps suggests. It had been many decades since I'd driven this route, most of a lifetime ago. IfOnly I'd thought to pack the forest service map. IfOnly!

We debate whether we should just turn around. We have a choice. We always have this choice. Whether to proceed into unprepared-for adventure or return the way we came. The unknowable competing with the already known. John votes for heading back, the weight of his missed lunch increasing. The Muse and I choose whatever's behind door number two, the wild blue yonder, the rather unpromising unknowable, figuring that we must be here for something other than repeating performances backward. The road continued to look challenging. We met some campers driving a high clearance pick-up and sat in a rare turnout for a full five minutes while the dust settled enough for us to even see where we were headed again. IfOnly it had rained in the last month, we might have experienced an easier passage.

A few minutes later, the road turned promising, leveled, graveled, and considerably less dusty. We began to see other vehicles and a familiar sense of salvation overtook us. The Muse mentioned how she hoped there might be a restaurant or something on the other end. There was! If only we'd packed a lunch, we might have found no reason to stop at that quirky little chalet with snowshoes tacked to the ceiling. We would have foregone that memory. IfOnly. It seems to me, a recent survivor of another IfOnly, that IfOnly might be a tell. It signals a remorse for something that hasn't happened and most likely won't. Maybe we've all ruined otherwise perfectly acceptable adventures by bemoaning the adventure we didn't have, couldn't have due to some cruel-seeming fate. We experience the adventures we get, often in spite of whatever we'd planned or, more importantly, often, for what we'd failed to adequately plan. God's hand might be blessing us with that curse right then. Had we not chosen whatever we would find behind door number two, we might have simply repeated what we'd already done, but backwards, and slinked home without salvation or much of a story to tell. IfOnly, indeed.

©2022 by David A. Schmaltz - all rights reserved