Small_Distinctions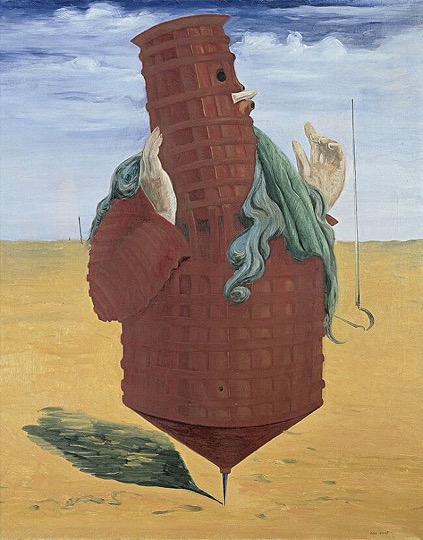 Max Ernst: Ubu Imperator (1923)
"Only a SmallDistinction separated their two identities …"

Despite, or perhaps because of, general exhortations for me to see the Big Picture, I usually focus upon making SmallDistinctions. Shades of grey seem to dominate most disagreements, not stark differences, as if a squint divided great armies to insist upon great tragedies. The easily perceived differences don't amount to much. The subtler ones seem to encourage deeper disagreements. Sons of Abraham became mortal enemies while birds and bees peacefully co-existed. BIG changes only seem the most significant, and some observers convincingly argue that BIG changes rarely, if ever, actually stick. People might take to wearing different jerseys but rarely shift far from wherever they started. One never successfully outgrows their roots, their infinitesimals growing up seem infinitely more significant. Blossoms might even emerge from those same gnarly, unpromising roots.

HeadingHomeward reduces into a series of small moments, none of them seemingly large enough to sum to anything wondrous or huge. Last night's snowfall fell a flake at a time, its final depth just as unanticipated as it was unanticipatable. I woke surprised to adjust my plans. In the Big Picture, this surprise amounts to a blippy nothing. In the moment, it sure seems significant. We'd relied upon the weather staying dry until the kitchen floor refinishing was done, but—surprise, surprise!—we received different, a slight twist to the expected story, another puzzle piece revealing a better plot than we'd had any reason to expect. What right gave us reason to expect, anyway? Our sense of sameness or difference fuels us forward into temptation. Nothing ever remained the same before today. Tomorrow will likely be no different, and each difference might well prove insignificant over the course of the tale, mere detail composed of SmallDistinctions unworthy of anticipation. We'll lose most SmallDistinctions in rounding, anyway.

Some sect believes that the universe exists in every particle, each speck of dust just as vast as The Milky Way, this whole place a recursive echo of itself on every possible scale. I think my desk perfectly representative of me, a mirror of what I might expect to see were I to focus greater scrutiny upon myself. The cluttered paper piles reflect how I tend to remember stuff. The coiling cables, my confusions about connecting. The idle book I'd intended to crack a year ago, still holding fort along the most innocuous edge of my existence. I don't precisely focus upon the small stuff, but I do try to focus much of my attention making SmallDistinctions. For me, Big Pictures get lost in rounding.

It follows, I suspect, that making SmallDistinctions encourages a greater acceptance that whatever happens was supposed to happen that way. I can't really see very far beyond my own nose, but my myopia hardly matters. One step at a time. I'm incapable of any more. I move from infinitesimal to infinitesimal, making only SmallDistinctions, in recognition that we're not really attempting any larger things. Yesterday morning, I left an impressive pile of garage detritus out for the garbage collectors, feeling as though I'd finally faced up to completing something huge. The collectors held other ideas, rejecting most of what I'd piled there, so I filled up the SecondCar and went to discover the county landfill. Sixty-five dollars and a cheap thin plastic safety vest later, I abandoned those promises and memories to something different if not clearly better. Each item had once represented an alluring promise. Some were leftovers after realizing some dream while others were elements of ones that never quite came together. Each, alone, a minor annoyance, together, they'd become a long-term obligation and a clear encumbrance to our exit. Only a SmallDistinction separated their two identities, both evaporating in a moment of expensive exasperation. I have a largely unused cheap thin plastic safety vest if you're interested.

©2021 by David A. Schmaltz - all rights reserved