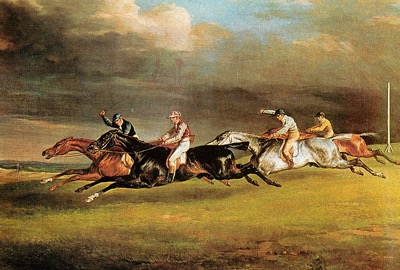 Le Derby de 1821 à Epsom,1821, Théodore Géricault
" … I once found it perfectly acceptable to start the day with a placid perusal of the paper."

Days begin with a thump now, the muffled sort of crash a kitten makes after misjudging a pounce, followed by a few moments of almost frantic pounding. The Daily Rumpus usually starts without me as witness. I enter the arena well after the start of the festivities to find another ornament down and the dining room table's cloth hanging at an odd angle. They've also displaced the carpet runners, making the room look like it belongs in one of those Vortex House tourist traps us kids used to plead to stop at when my dad was trying to make time on our summer vacation drive to Southern California. The food bowls will have been picked clean and the water bowl nearing empty. A plant might have been mysteriously tipped over, throw rugs knotted where they lay. Doilies lay like crumpled butterflies in the seat bottoms beneath their usual display positions along the tops of chairs. The wicker rocker will have lost its throw blanket and all will seem right with the world.

The celebration will continue for the next few hours, re-enouraged by the presence of an appreciative audience.
Slip over here for more ...