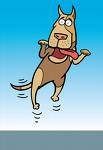 Let's say you have a government that doesn't serve your personal agenda. You have a grievance. You'd like to make some changes to better serve your interests. What do you do?

One popular local strategy undermines. Rather than helping officials leverage their power to serve your interests or taking their power for yourself, this approach diffuses their power by defaming it. No need to painstakingly work through issues or risk personal injury.
Slip over here for more ...