20 07, 09 11:13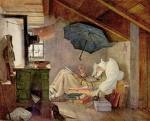 Previously in this series:
First
,
Second
,
Third
,
Fourth
,
Fifth
,
Sixth
, and
Seventh
The Way A Poet Might
If I were to write this poem the way we're trained to manage work,
I wouldn't need a pen or paper (or an eraser, or any quirks).
I'd start with pure logistics, and organize the space
in the One Best Way to guarantee the efficiency of pace.
I'd consider all the resources I'd likely ever need,
Then contract to acquire each before I would ever dare proceed.
And I would draft a careful plan with metrics clean and square
to guide my pen and paper use, to co-opt every care.
I would also study others' works with a coolly larcenous eye,
To find the very best of class to anonymously plagiarize.
Then I might change a word or two, and certainly tweak the title,
before publishing the result to great tumult, The New American Bible!
Slip over here for more ...