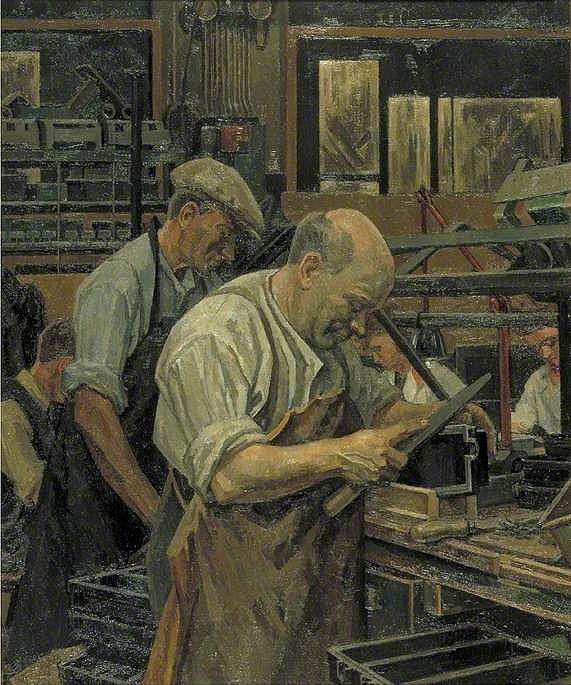 Percy Frederick Horton: Blind Workers in a Birmingham Factory (Circa 1940s)
"What approach am I deploying as if it was essential?"

Five weeks into the Villa's refurbishment and I've started questioning my MannerOfWorking. Early on, I could engage productively and mindlessly, an easy feat since I was inexperienced doing most of the work my assignments entailed. I was just learning to pull nails from the bottom of boards so I didn't yet know enough to consider embellishments on the standard brute force. Kurt Our Painter introduced me to what he believes to be one of the absolutely essential tools in his considerable arsenal, The Big Fucking Pliers. The BFPs are not for fiddling with nuts and bolts. They bring a measure of brute force to a task. Cast forged steel, they weigh heavy in the hand and prove handy in a hundred ways, one of those being pulling countersunk nails from baseboards. One could choose to pound out those babies and remove them with a crowbar or hammer, but why bother with messing up the board face when it's possible to just remove those nails by the tail, preserving the smooth board face and limiting the damage to century-old fine-grained trim wood? After a few sessions of nail removing, I began to notice different possibilities. Then I began to remove nails more easily. I'd become a more experienced hand.

The story's the same with refinishing doors.
Slip over here for more ...