ChangingVenue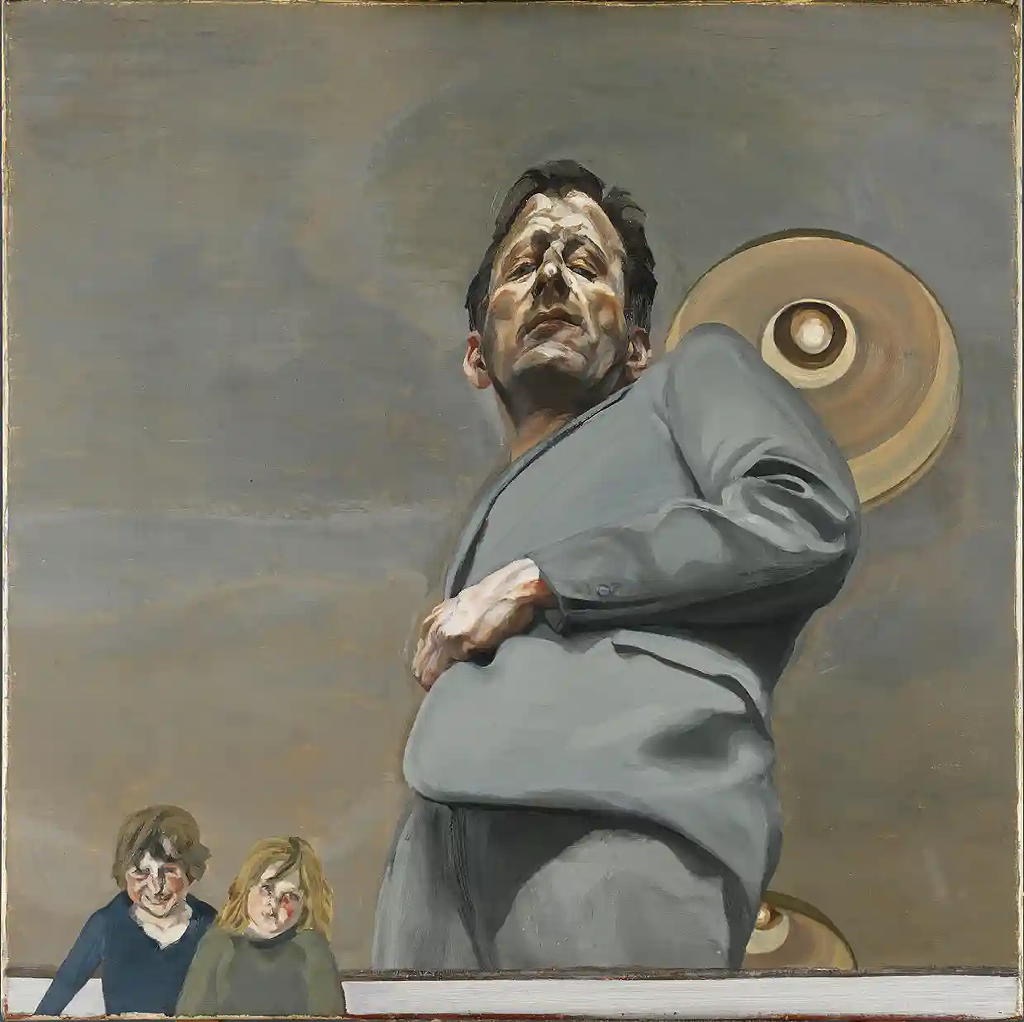 Lucian Freud: Reflection with Two Children [Self-portrait] (1965)
" … my perspective suddenly vaster"

This Damned Pandemic has severely limited my mobility. As a writer, I treasure the movability of my craft. I can just as easily write in the backyard gazebo as at my desk. For years, my desk served as the last place where I'd consider tucking into any actual work. Since the shutdown started two years ago, though, my desk has served as, well, my desk. The view overlooking the center of the universe, where we moved my desk eleven months ago, and The Grand Refurbish, finished two short months ago, improved my location if not my variety, for before the sequestering, I maintained a hot half dozen regular alternative places to work. I could just drop in either of a couple of Starbucks or a local coffee shop near the university, or even another up in our mountain village. I could choose from two fine libraries or a breakfast place with outside seating on Main Street. If I felt constrained at home, I could just head out to find some properly bounded isolation my writing seemed to thrive upon. No longer.

With the COVID and her variants, I hardly ever leave the house, let alone go sit in any of my used-to-be usual public places. The library where I decades ago edited my first best seller remains off base. The Starbucks on Main Street where I used to be a regular—by which I mean I didn't have to order, my preference just appeared as I approached the counter—remains too crowded for me to write in that front window while the city wakes up before me. There's really no place where I feel safe plying my trade except my desk, but some work, writing as well as Authoring, demands a change of venue. I've been rewriting an introduction, which demands a different perspective than the original exuded, but try as I might, that perspective wouldn't visit while I labored at my desk. I might have remembered, but I didn't, that a writer and apparently an Author, too, needs the occasional ChangingVenue. I cannot expect myself to shift my focus if I'm looking out the same old window.

The shift happened without my really anticipating it. I'd finally managed to schedule that service at the dealership over in the next county and I brought my laptop along, and a marked up manuscript for which I'd been procrastinating updating the soft master. The high volume printer's been hogging half my desk top since I started this Authoring effort, and it inhibits my ability to shuffle through manuscripts. The dealership provides a few workstations for their stranded patrons, so I claimed one for my morning's desk. A hot half hour later, the soft master was updated with all of the Proofing changes remaining from my last read-through of that manuscript. How could that have happened? From overwhelming obligation to trivial completion in a few scant minutes. ChangingVenue magic.

Heraclitus, he who could never manage to cross the same river twice, well understood the process, for he proposed that the same becomes utterly different under the influence of even a small shift in perspective. Even a view into the center of the universe loses its influence over time to become mundanity incarnate. A guy like me eventually needs a fresh focus in order to even see the same old thing. Any little innocuous-seeming change can make a huge difference. It might not matter what. I probably didn't really need that desk the dealership provided. I might have found just as much motivation had I taken to a picnic table somewhere. The difference influenced. Not the kind of difference, just the presence of it.

If it's not working here, just try it somewhere else. There have been times when I seemed fussiness itself, seeking a slightly different venue every blessed morning, avoiding accumulating any habitual location, except then my relocating ultimately became the same-old habit inhibiting my production. It don't take much to bust up the inhibiting pattern and it always seems possible to bust up a pattern, nobody else's permission required. When I get stuck, though, the very adhesion seems to shut down my reasoning. I can't see that if I just fled to the basement for a morning, I might find the edge I don't really notice missing. I returned from the dealership with more than a fully serviced Schooner, but with a real sense of progress made on my manuscript. My world, so recently shrunken and narrow, had broadened considerably. my perspective suddenly vaster, my Authoring, seemingly masterful. ChangingVenue magic!

©2022 by David A. Schmaltz - all rights reserved