14 04, 13 06:05 Filed under:
Life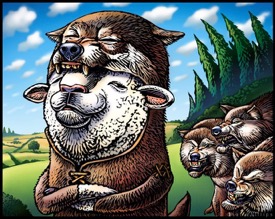 Business school bestowed an extra, unstated diploma upon me. Sure, I received the faux sheepskin one, properly bound in a green leather case, with a more powerful, insidious, tacit one invisibly attached.

After those full-immersion years of case studies, conferences, and cow-towing, I fancied myself some kind of leader. Other than getting myself chosen as the chapter head of a small student organization, I'd had little practical experience, and certainly no large-scale strategic involvement in anything. But I carried that attitude, that confident mindset that, given half a chance, my presence would improve any organization.

My first wife would ask what had happened to me, and I would respond absolutely baffled by her question. I felt on top of an expanding world, powerful in ways I had never before imagined. Sure, I worked long uncompensated hours as a management trainee, but I was working with the big dogs, ... digging, it would turn out, really big holes.
Slip over here for more ...