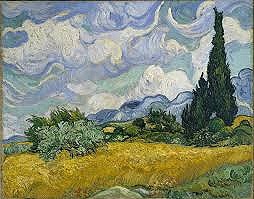 " … evenings would have turned to frost and the sky would have become that most remarkable blue."

Want follows excess. The Muse and I climb up and over White Pass, a low route through the mighty Cascades, moving through late summer fields showing the tail end of seasonal excess. Vine maple and alder hold the passage of July's brutal heat in their desiccating foliage. Wheat harvested, stubble fields stand like old men with their pale bellies showing beneath too-tight tee shirts. We drive beneath cool covering cloud until we reach the pinnacle, where the sky opens wider than a clown's mouth in a dentist's chair. High dry hills watch us pass, heading home(s), through our home country one last time, a short stop where our hearts live before heading on to our most current temporary mailing address.

Excess follows want. Our decade of exile taught us more than we ever wanted to learn, thank heavens.
Slip over here for more ...