31 07, 20 05:41 Filed under:
NowHere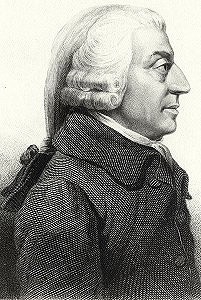 Adam Smith, Our Invisible Friend
"May we each come to more deeply appreciate our own agency."

The clever critic starts every review with some variant of, "Far be it from me to criticize, but …". That's a really BIG but, ingenuous as Hell, so I will allow myself to start this criticism more authentically. Your Invisible Friend continues betraying you. Your continuing faith in his underlying beneficence crosses the line between devotion and idolatry. Believe whatever you choose to believe, I say, but consider what each belief bestows upon thee. (I'm very likely to get preachy from here on, so proceed with care.) Any belief that continuously punishes your faith in it, ain't that great of a belief. Any faith that feeds cynicism should simply be abandoned. Any devotion that breeds a deepening sense of victimization, does damage rather than good. I know I'm not supposed to propose any hard shoulds, but please consider what your experience could become if you ditched your insidious Invisible Friend.

He has, they say, an invisible hand, one which, without human intervention, rules economic progress.
Slip over here for more ...