30 06, 20 03:47 Filed under:
NowHere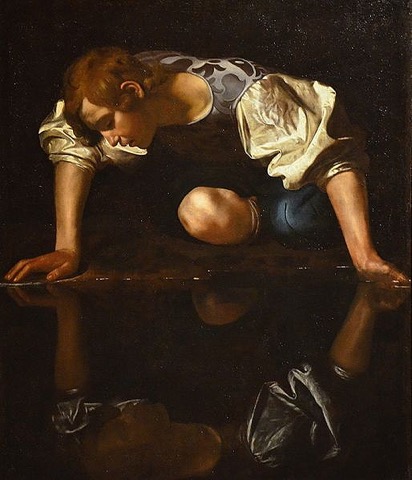 Narcissus by Caravaggio, 1597–1599
"Eviscerate freely, dear readers …"

My maternal grandfather seemed taciturn. He'd speak hesitantly except to poke fun, which usually seemed more mean than humorous. I knew that he'd seen a lot in his time, but he rarely mentioned his experiences beyond a few hunting stories, which I found generally uninteresting. I wondered after his manner of living, for his whole lifestyle seemed cloaked and therefore mysterious. I wonder now how he introduced himself to strangers and I realize that he never properly introduced himself to me. I remember him but admit that I did not now him well. He seemed of a different age. I'd seen the photograph of him as a barefoot school kid, with his Huck Finn-looking compatriots, back when he attended a one room school, where he'd stayed only long enough to graduate third grade. His census record lists him as a laborer, though he owned his own home on a small plot of land featuring a barn where he bedded enough livestock to service the household, chickens, a cow, and a lamb or two.

I began writing in earnest once I realized that I seemed destined for a similar fate, bequeathing little of my manner of living to my grandchildren, for I was certain the generational mystery would very likely ultimately nullify me.
Slip over here for more ...