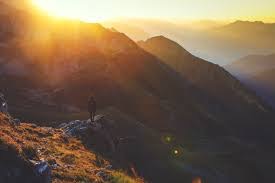 "tomorrow will deliver a fresh faced opening in the turmoil"

I have no more than an hour each day I can call my own. Though I might spend most of every day alone, save for Rose The Skittish Spinster Cat's ever watchful eye, only that brief time really feels as though it completely belongs to me. Just after sunrise, I'm the only one moving. The yappy neighbor dogs still snooze. Even the freeway across the gulch fairly whispers at that hour. The Times hasn't yet arrived. The Muse wraps herself in emphatic covers, sucking every second out of her last hour of sleep. I've been up puttering for over an hour by then and feeling restless.

I step outside to immerse myself in the moist, cool stillness. Even in the middle of a heatwave, that early morning hour caresses. I'm up and just have to get out.
Slip over here for more ...