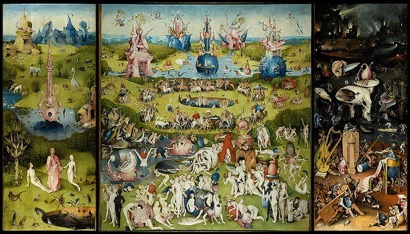 Hieronymus Bosch, The Garden of Earthly Delights (circa 1490-1510)
"I feel a deep responsibility to maintain a sense of my own eternity."

As near as I can tell from here, we're each immortal until we're not. We each live infinite lives, lives within lives seemingly ad infinitum, right up to the moment when we don't anymore. To understand Eternals, it seems as though one must consider a slightly different from usual interpretation of infinity. Mathematics presumes infinity to be a collection of uncountable things, most often imagined as an overwhelmingly enormous set. They admit that some infinities extend further than others, giving rise to both smaller and larger enormities, but each extends further than anyone can imagine. Eternals last forever but emerge from moments. They hold realized potential and cannot ever be undone. That falling leaf embodies an eternal event which might have happened in many different ways, but didn't. It occurred just as it did and could thereafter never be undone. No do-overs, no mulligans. Each event happens precisely once, eternally.

You and I exist on the leading edge of an ever-changing eternity, for we each hold potentials destined to become Eternals.
Slip over here for more ...