Topping Touchet Hill, I felt my shoulders spreading out, stretching from horizon to horizon across this wide frozen valley. The Blues an icy mirage hovering along the Eastern extent, the Columbia Gorge slipping behind. Our passage had been surprisingly effortless; haunted by grave predictions, but that freezing rain front dissipated over the Coast Range and never touched the Gorge. Multnomah Falls fell through an ice chute into a snow-frosted canopy. We fell just as effortlessly through the long, familiar rimrock and cottonwood, road screaming beneath us.
Distressed to discover that the Pheasant Grill was closed, for sale sign replacing the predictably welcoming entrance. No Honker Burger this trip. On to the aptly-named Boardman for a Bozo Burger instead. Slip over here for more ...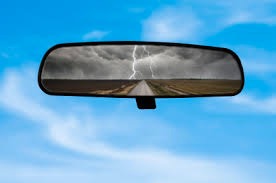 I lost ordinary time with the first great divorce and dismemberment. Living in a tiny apartment in an iffy neighborhood then, I'd see my kids on weekends, where pent-up guilt would drive me to try to make each visit special, as if something extraordinary might lengthen our time together or deepen our connection to each other. Quite a lot of that time was spent in the car, ferrying between adventures, as if searching for someplace we might actually belong.
The second great divorce and dismemberment seemed worse, demonstrating my failed attempt to find a safe place for us to simply experience ordinary time together. I called myself Uncle Dad, a weekend visitor choking cheerfulness out of my broken heart. I made up truly terrible traveling tunes and spent too much time talking through my rear view mirror. Slip over here for more ...
The leave-taking was about a tenth as tough as I anticipated it would be. A brief tussle through security when I inadvertently drew my library card instead of my driver's license, quickly resolved. Tolerable turbulence in spite of a historical winter storm raging a few thousand feet below us over the Midwest. A two hour delay changing planes in Denver, where The Muse and I have spent plenty of time. That felt like a home-turf layover. I'd seen that winds were gusting over thirty miles an hour out of the Columbia River Gorge today, and again, true to my timid rabbit temperament, I pre-lived an aerial Posidan Adventure almost until we were on final approach in Portland. We spidered in, the pilot finally finding that third wheel before a gust could overturn us.
Once unshackled from the accustomed discomfort of our exile, The Muse and I cruise quite competently. Slip over here for more ...