22 08, 23 03:10 Filed under:
Honing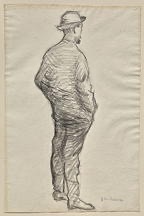 Gustave Caillebotte:
Study of a Man with Hands in His Pockets (1893)

"Let the inquiry fail to resolve the mystery."


The Muse and I, putting up in an ancient Bridge Tender's Shack while visiting old friends in a small hamlet on Puget Sound, encountered a culture for which we have no referent. We can register its presence but cannot reason ourselves into comprehension of it. The Yacht Culture, the denizens of which tie up their vessels at the modest town dock, which the deck of our tiny shack overlooks. The Muse Googles to find that the biggest one would sell for well over a million dollars and comfortably sleep six couples. Our friend recalls watching one embark with a crew following their captain's directions via Bluetooth headsets. Such grandeur! Such pretense!

I cannot imagine that scale of existence, the idle time required to engage in it, or the wealth needed to support it.
Slip over here for more ...