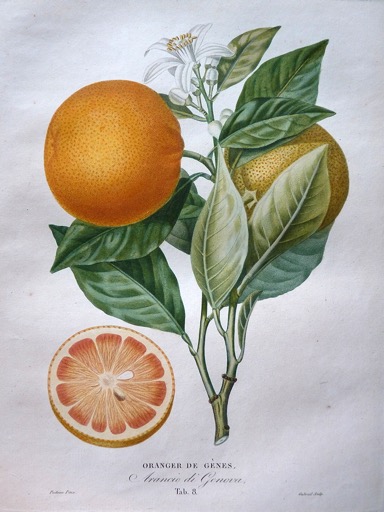 Pierre-Antoine Poiteau: Plate 8, "Arancio di Genova", from l'Histoire Naturelle des Orangers (circa 1818)
"It's been a long time since yesterday's lunch."

Psychologist Paul Watzlawick told the story of the Stalin-era Ukrainian collective farm ordered by the Moscow central planning bureau to grow oranges. When the farmers complained that Ukraine's climate was not right for orange cultivation, the planning bureau criticized their counter-revolutionary attitude. Relenting, the farmers planted orange trees, which froze the first winter. The farmers were sent to Siberia for sabotaging The Five Year Plan. Context always matters yet plans can only be crafted out of the context within which they will be expected to execute. Planners largely presume away the differences because anticipating them either proves to be impossible in practice or implausible to overseers. We tend to create fictions, the best-laid of which initially prove most satisfying. Later, the weather will do what she always does and prove somebody foolish. Caution's rarely rewarded.

One just never knows until arriving precisely what climate they'll be encountering.
Slip over here for more ...