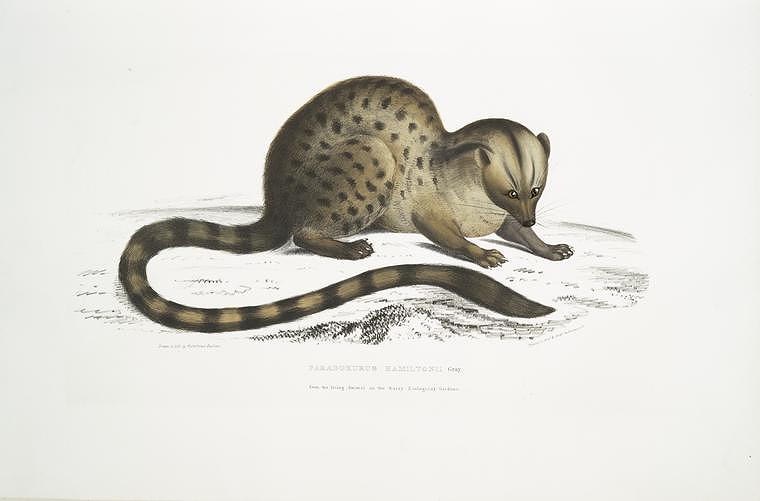 John Edward Gray:
Dr. Hamilton's Paradoxurus, Paradoxurus Hamiltonii.
From The Living Animal in the Surry Zoological Gardens
(circa 1830-34)

"I find my redemption lurking in the far back corner of my original intention."


The Muse complains when I refer to myself as her Emotional Support Animal. When I asked after her protest, she said that she didn't think of me as an animal. "Am I vegetable, then, or mineral?" She noted that my rock head strongly suggests mineral. My purpose in declaring myself her Emotional Support Animal had more to do with keeping the most serious possible business just as light as possible. My intentions were serious but also bordered upon unspeakable. I wanted to declare that I would be there for her as she went through her cancer treatment, no babying intended. Emotional Support Animals have become troublesome, as many have seized the opportunity to declare their pet as such and thereby gain the privilege of hauling them onto airplanes without paying fares. And it's not just been dogs and cats, but every manner of critter to the point where airlines and the FAA have had to make rules ever stricter. I think it was the alligator or perhaps the ostrich that nudged the practice into untenable territory. Now, one needs evidence that the animal serves as essential emotional support, a level of proof that I suspect should border the impossible to show. Emotional support rarely seems critical.

The Muse probably didn't need the support I offered, but I'd felt it important to offer it nonetheless.
Slip over here for more ...