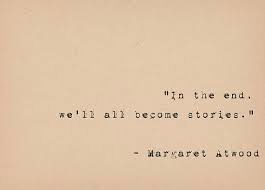 You inspire me but that's only your birthright and my responsibility.

We become our stories. Once we disappear, after we've gone, when we've left behind all the sacred possibilities every breath brings, we become our stories. Speak mindfully of nothing else. The facts don't matter; the most terrible turmoil merely grist for this mill. We will each become the stories we tell.

They become the stories they heard. Not all of anyone, no, but some of who each of us become, while more than the simple sum of any explanation, certainly involves these parts which started by accumulating stories until subsumed into them, blended into the ones others owned themselves.

Slip over here for more ...