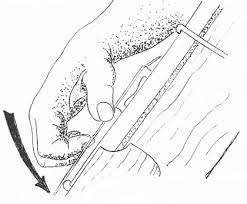 Charleston, West Virginia might be the best example of what Mr. Potter was aiming to do in It's A Wonderful Life. It seems at least one George Bailey short of a wonderful place. The Muse said it looks like an Orc village, and seemed particularly terrifying after our quick zoot down through spring snow-covered mountains. We'd abandoned our earlier notion of wending through the lower intestinal tract of Appalachian coal country in favor of better traveled roads once we'd surveyed the depth of the slush remaining after winter's overnight surprise revisit.

Our first rule of roading insists that no earlier idea ever metastasize into an obligatory plan. We shift as the spirit or the Gods move us to shift, and these shifts happen without remorse or regret. We live only in the moment, more or less. We retain some vague memory of where we intend to end up without shackling ourselves to any particular means.

We high-tailed our threatened vestigial tails out of that sour Charleston valley before the air bourne chemicals could get us too much, heading for Kentucky's bluegrass country. Kentucky seems civilized compared to West Virginia; perhaps gentrified. The grass is disappointingly not even the faintest hint of blue, but brown nearer the eastern border this time of year and increasingly green in the ever lowering elevations as we cruise west. Gilded horse farms dominate, each surrounded by what seems like miles of white rail fences in perfect condition. Manor houses by the score.
Slip over here for more ...